Experience the Florida Outdoors
If you're traveling to Florida I'm sure you are planning on spending your time outdoors; it's the best reason to go to Florida!
More than theme parks and beaches
We understand that many travelers go for the salt water experience - fishing and sunning yourself on the beach.
However, here we are promoting the bass fishing and the camping, what we like to call the true outdoor experience.
Bass Fishing
As far as the bass fishing goes Florida is one of the best places to go if you are looking to catch a new personal best bass or possibly even if you are looking for that world record.
No matter what you're searching for, bass fishing in the Florida outdoors is one of the best destinations you could possibly choose. Waters EdgeStore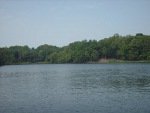 Here you will find all of the most famous lakes, such as Lake Okeechobee and Lake Toho, but you will also find less famous ones as well, such as Lake Walk in Water.
No matter which one you choose, we are sure that you will have an excellent fishing trip.
Camping
Camping in Florida is almost as good as the bass fishing.
While our main purpose here is to promote the fishing and camping experience, we will find the campgrounds that will help you better enjoy a Florida vacation no matter what your plans are.
Whether you are planning to spend the days on the beach or vacation near Orlando to enjoy all of its attractions, we will do all the work and find the perfect spot for you and your family.
---