Louisiana Lakes and Campgrounds
Louisiana is a state that is a world apart. Visit this unique part area for world class fishing, camping and food.
Fishing
North Louisiana offers Bassmasters-worthy fishing at Toledo Bend Lake, among others.
In the central part of the state, you will find Kincaid Reservoir near Alexandria and Lake Crest in Baton Rouge.
Move further south and you return to Bassmasters tournament territory with Bayou Signette near New Orleans. Of course, you also have Lake Pontchartrain and numerous other small lakes and inlets.
Camping
Waters EdgeStore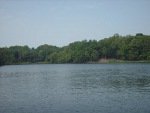 Campgrounds are almost as plentiful as the lakes in Louisiana. So, wherever you choose to fish, you'll likely find somewhere close by to camp.
At Toledo Bend, for instance, you can enjoy the amenities at Shadows Landing.
Do you have a favorite lake or campground in Louisiana? Share your stories here.
For more lakes and campgrounds to explore while you feast on the amazing Cajun and Creole cuisine, check out the links below.
---
More Louisiana Lakes
Turkey Creek Lake
Caney Lake Reservoir
Kincaid Lake Recreation Area
Jimmie Davis State Park
---
Return Home from Louisiana Lakes and Campgrounds