Explore Tennessee Lakes and Campgrounds
Tennessee has a lot to offer the outdoors enthusiast. It is a state rich with lakes, mountains and rivers where you can reconnect with nature however you prefer.
Fishing
For instance, many lakes throughout the state are run by the Tennessee Wildlife Resource Agency (TWRA). You can find more about these lakes here.

These aren't the only lakes with good fishing, though. Western Tennessee has Kentucky Lake, Reelfoot Lake and others you can explore. As you move into the central and eastern parts of the state, you can fish Knoxville Lake or Old Hickory Lake near Nashville.
Camping and other outdoors activities
Waters EdgeStore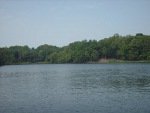 Camping is just as popular throughout the Volunteer State. From the privately owned Birdsong Resort at Kentucky Lake to Cove Lake State Park in Caryville, you can bring your tent or sleep under the stars just about anywhere.
Find more camping at:
---