Camping and Fishing in Alabama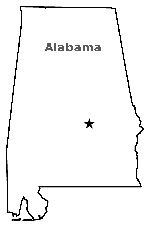 Welcome to Alabama - one of the most beautiful states in the country for the avid camper and fisherman. From the northern mountains to the beautiful shores of the Gulf of Mexico and everything in between Alabama is an outdoor adventure.
Camping
If you are planning to vacation in here you will find more than 100 campgrounds throughout the state with fantastic bike trails in the south, hiking most anywhere in the state and rock climbing in the north. No matter what part of the state you decide to visit you will find plenty of wildlife to view and enjoy.
Fishing
What's that you say, you prefer to fish, well you've got to
fish the Alabama Bass Trail
. Start with the reservoir chain on the Coosa river to Lake Guntersville and on over to Lake Eufela in east central Alabama.
After fishing these great bass lakes and reservoirs like Logan Martin Lake, you'll definitely have a better understanding of why the Bassmasters calls Alabama home.
So if camping or bass fishing is your thing you've come to the right spot. Below you'll find links to the lakes and reservoirs where you can find the bass you've always dreamed of catching and the campgrounds to rest your weary bones after a long day on the lake.
And More!
Don't worry, we didn't forget about our hikers, rock climbers or hunters either. We'll review all the campgrounds we possibly can in Alabama including those that cater to you, too.
---
Logan Landing RV Resort and Campground