TWRA (Tennessee Wildlife Resources Agency) has 18 managed lakes in middle and west Tennessee that are open year round. Private contractors operate some of these lakes and offer services for the fishing public such as, boat rentals and tackle shops.
The lakes open 30 minutes before sunrise and close 30 minutes after sunset. Garret lake in Weakley County is open 24 hours. Some of the lakes are closed on Thanksgiving and Christmas.
These include:
Daily permits are required at most of the lakes for a $5.00 fee as well as your regular fishing license. Also available for purchase is a seasonal pass for $40.00 dollars which is good at any of the TWRA lakes that require a permit.Waters EdgeStore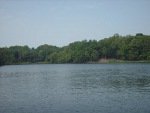 All residents between 16 and 64 years of age, except holders of a Sportsman License and Lifetime Sportsman license and nonresidents 16 years of age or older must have this permit.
All residents who are 65 years or older are exempt from having this permit, however, they do need a regular fishing license.
Alcoholic Beverages are prohibited from all lakes.
I have not visited all of these lakes but the ones I have visited are located in beautiful settings. I highly recommend visiting any of them.
---